Super Duty Counter Mat
Our most durable counter mat.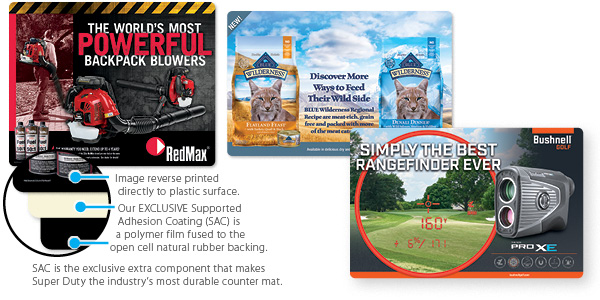 SURFACES
VYNEX® durable textured matte finish.
KRYSTEX® durable clear, gloss finish.
IMPRINT
Offset Lithography: 4-Color Process. Printed directly to plastic.
BASE
SUPER DUTY RUBBER This natural open cell rubber Base material has our Supported Adhesion Coating (SAC). The dimensional stability and adhesion characteristics provided by SAC make this the most durable base option. Available in 1/16", 1/8", and 3/16" thicknesses.
MINIMUM ORDER
25 pieces
Minimum is 25 (2-24 pieces available, call for details).
25-249 pieces and sizes larger than 17" x 26" available in 4-Color Process only.
SIZE/SHAPE
CounterPoint® offers these standard counter mat sizes. Standard and maximum window sizes are included for window mats. Rectangle PDF file contains a rectangle with 3/8" rounded corners and optional window information. With CounterPoint®, your creativity is not limited to a rectangle! Custom shapes and sizes are our specialty.
Templates for:
1/16" Super Duty Base + Vynex® or Krystex® Surface
TEMPLATE SIZE
Vynex
Krystex
Template
1/16"  x  10"  x  15"
N61
K61
View/Download PDF
1/16"  x  11"  x  17"
N61117
K61117
View/Download PDF
1/16"  x  12"  x  18"
N612
K612
View/Download PDF
1/16"  x  13"  x  19"
N61319
K61319
View/Download PDF
1/16"  x  14"  x  19"
N61419
K61419
View/Download PDF
1/16"  x  16"  x  20"
N61620
K61620
View/Download PDF
1/16"  x  17"  x  26"
N61726
K61726
View/Download PDF
1/16"  x  19½"  x  28"
N61952
K61952
View/Download PDF
Templates for:
1/8" Super Duty Base + Vynex® or Krystex® Surface
TEMPLATE SIZE
Vynex
Krystex
Template
1/8"  x  10"  x  15"
N81
K81
View/Download PDF
1/8"  x  11"  x  17"
N81117
K81117
View/Download PDF
1/8"  x  12"  x  18"
N812
K812
View/Download PDF
1/8"  x  13"  x  19"
N81319
K81319
View/Download PDF
1/8"  x  14"  x  19"
N81419
K81419
View/Download PDF
1/8"  x  16"  x  20"
N81620
K81620
View/Download PDF
1/8"  x  17"  x  26"
N81726
K81726
View/Download PDF
1/8"  x  19½"  x  28"
N81952
K81952
View/Download PDF
Templates for:
3/16" Super Duty Base + Vynex® or Krystex® Surface
TEMPLATE SIZE
Vynex
Krystex
Template
3/16"  x  10"  x  15"
N41
K41
View/Download PDF
3/16"  x  11"  x  17"
N41117
K41117
View/Download PDF
3/16"  x  12"  x  18"
N412
K412
View/Download PDF
3/16"  x  13"  x  19"
N41319
K41319
View/Download PDF
3/16"  x  14"  x  19"
N41419
K41419
View/Download PDF
3/16"  x  16"  x  20"
N41620
K41620
View/Download PDF
3/16"  x  17"  x  26"
N41726
K41726
View/Download PDF
3/16"  x  19½"  x  28"
N41952
K41952
View/Download PDF